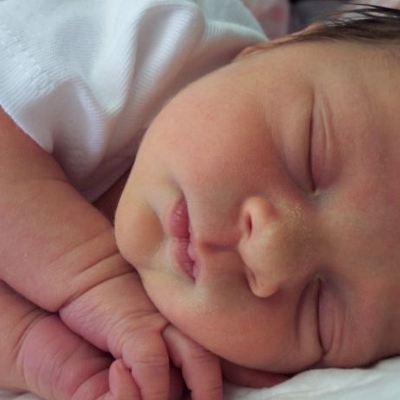 If you're like many soon-to-be moms, you probably are thinking about all of the ways you can prepare to make your home safe for your new baby. Unless you plan on keeping your baby with you wherever you go in your home and yard, you'll want to be able to use a baby monitor to see and hear what's happening with your baby just in case he or she needs help. Most monitors sell for $40 to $200, which is well worth the cost when it comes to your baby's well-being and your peace of mind.
There are four basic types of monitors: analog audio monitors operate on a radio frequency, so that there's no Wi-Fi interference; video monitors allow you to see and hear your baby from afar; movement monitors sense even the smallest movement your baby makes, which triggers an audible alarm; and Wi-Fi monitors that allow you see and hear your baby in-home and away. Wi-Fi monitors have free apps for Apple and Android devices.
The VTech – Safe and Sound 1.9 GHz Digital Audio Baby Monitor, DM221 is a very popular digital monitor that provides crystal clear transmissions while eliminating the annoying white noise produced by analog monitors. The extended range means you can be up to 1000 feet away from your baby and the parent unit has rechargeable batteries with up to 18 hours of monitoring time. You can even talk to your baby by using the monitor's talk-back intercom system. This monitor retails for $39.95 at Wal-Mart.
The Samsung SmartCam HD Pro Simple WiFi IP Camera features full 1080P video, two-way talk, local video storage and a 64 GB card. You'll be able to check in on what your baby is doing and you can view your SmartCam HD Pro from your mobile device, your computer or your tablet anytime from anywhere in the world. This monitor is sold exclusively online and it retails for $199 at Babies"R"Us.
The LEVANA Powered by Snuza® Oma+â"¢ Portable Baby Movement Monitor clips on a baby's diaper just like a pager. The unit has a vibration alert if no movement is detected for 15 seconds and if 20 seconds pass without any movement from your baby, you'll hear a very loud beep. You can wear your device on your belt clip or tuck it into your purse. The monitor retails for $99 at Target.
The Angelcare Baby Sound Monitor is an analog device that provides continuous or voice-activated transmission at a range up to 820 feet. There are eight channels to reduce interference and provide clear sounds and both the baby and parent units operate on batteries or AC adapters. The parent unit has a belt clip, so you can wear it easily around the house and the nursery unit has a nightlight that provides a soft glow in your child's room.