Wood is one of the best materials to use in the home for a number of reasons. It's highly sustainable, can be adapted to suit many rooms and purposes and is durable and long-lasting. In the USA the majority of homes themselves are made of wood, though this can pose something of a fire risk. There are many great and varied ways you can use wood in your home in a practical sense and to form an interesting aesthetic.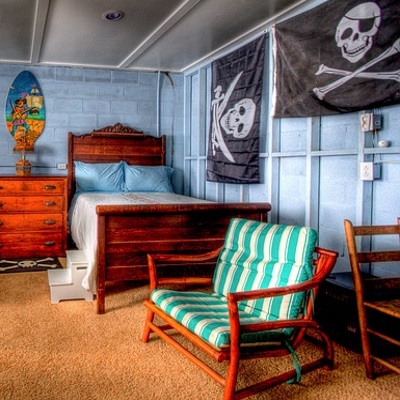 1. Funky Flooring
There's a lot to be said for wooden flooring. Not only does it literally offer a solid choice but it can provide a classic touch to any house. It's best suited to living rooms, where light oaks especially can really brighten the atmosphere. But don't let that stop you, there's no reason you can't have wooden floors in many other rooms and if you opt for a laminated wooden floor then it can withstand more damage. That's ideal for those with kids and can result in some funkier designs too.
2. Unique Furniture
The main way wood is used in most homes, even if it doesn't match the rest of the decor, is with wooden furniture. From beds to tables, chairs, bookcases and so much more from Furniture Plus, it's a practical choice. If you want something that will stand out a bit more though, go for wooden versions of furniture that are normally made from metal or other materials. This could be filing cabinets in your home office, TV stands and anything else.
3. Ladder Access
For something that will really get people talking but also serve a practical purpose, consider installing some wooden ladders if necessary. The most obvious place is when you've got a loft conversion that requires some kind of access. While other properties may have raised beds, such as studio apartments where the sleeping area is separate. This is only applicable if you're designing a new home or live in one that does need ladders though.
4. DIY Decorations
New or scrap wood can be used to create some fantastic decorations for any room in your house. Many of these can have useful purposes too, from obvious ideas like making picture frames or wooden plant pots to hold any indoor shrubs or cacti. If you've got pets then you might be able to craft an eating and drinking bowl. More decoration wise, carving in a special phrase or date can make a nice living room feature, or you can simply create some wooden numbers to go on your front door.
5. Heating
Probably the very first use of wood, there's no reason not to burn it for heating purposes in your home (unless you don't have a working fireplace of course). This can add a real traditional feel to your home while also keeping you and any guests warm. Just be aware of the smell it will create and make sure your chimney is clean and in good working order.
There are many more great ways to use wood in the home, what are some of your favourite ideas?
Brought to you by our friends at furnitureplusonline.co.uk.