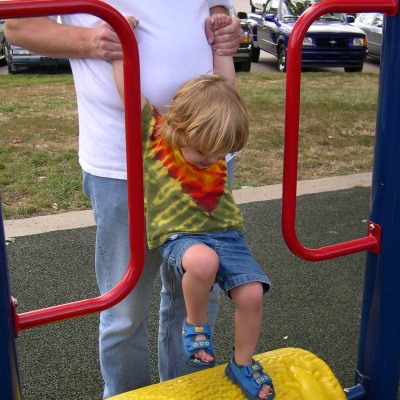 With the warmer weather, there are more opportunities for young children to play outside. This is a great way to encourage creativity and promote healthy living.
Preschoolers are full of wonder about the world around them. With work schedules more relaxed in the summer, maybe now is the time to encourage your child to explore outside activities. For successful outings, plan ahead for snacks, portable meals and lots of liquids on hot days. Sometimes it helps to keep the event on the shorter side so everyone has enough energy to get home in a good mood. It tests everyone's patience when a child becomes overtired and demanding. Positive memories are formed when the outing has been fun and there is still enough energy to have a pleasant dinner and evening.
1. Explore the neighborhood. Encourage the child to walk with a small bag to collect treasures. When you get home, maybe the child can make a collage to show relatives and friends later. Also, for a youngster, the chance to take a little scooter or tricycle for a ride around the block or to the local park is an adventure. Another idea is to set up a play area at your home, maybe even a blow up castle, and welcome neighborhood children to come and enjoy the fun.
2. Outdoor water parks are bustling with activity this time of year. This is perfect for a child that likes to run around and get wet. Also, many waterslide parks have areas suitable for younger children. When a parent goes down the waterslides too, the children are thrilled. In the summer, many community pools offer "Family swim" sessions for a small fee. Is your youngster ready for swimming lessons? The two week sessions tend to work better with family schedules in the summer.
3. Do you live near a beach? Young children love to play in the sand. With only a few pails and shovels, many children can have lots of fun. Adult supervision is always necessary near water, but everyone can enjoy collecting shells, rocks and making sand castles.
4. Plant a garden with your child. For people who do not have a yard, there are books to explain how to make a container garden. Children are thrilled to watch things grow over the summer and then get to enjoy their produce with dinner. The sense of accomplishment is important and helps to instill an interest in healthy eating. Also, visit a farmers' market and taste some locally made goodies along with fresh fruits and vegetables.
5. Join the community celebrations to mark the national holiday in July. On Canada Day (July 1st) and Independence Day on July 4th, there tend to be parades to watch or walk in. A larger park in your area might have a big event including a band playing, dancing and if you are lucky, a free slice of cake.
In the warmer weather, it's great to have fun with your preschooler outdoors. Enjoy!