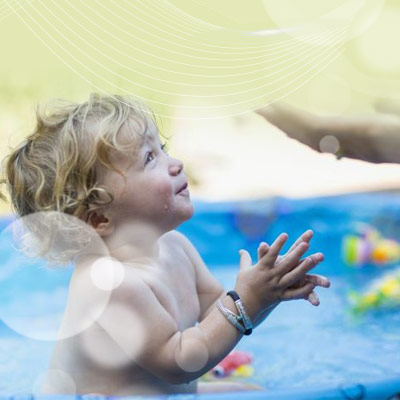 Preschoolers are so much fun and so full of life. It really does not take much to keep them occupied, especially in the summer. One thing that they never seem to find boring is water. So, here I will discuss some water fun for the little one.
I remember thinking about how to entertain my first daughter one summer day and trying to come up with this elaborate plan. I was going to create a huge obstacle type course in our backyard to keep her busy and engaged. While I was thinking, I decided to water the flowers, and as soon as the hose turned on she appeared. Then it hit me…I was way overthinking this.
There are several fun things you can do with water. Some are super cheap, and others ask for a little more of an investment. I will discuss three of my favorites:
1) The kiddie pool. Out of all the options, this is the most expensive. However, you can get a relatively cheap pool or spend a little more as you desire. I tend to get the inflatable pools, because they are very easy to store. A tip for inflatable pools is to buy an air mattress pump. I was stupid enough to blow one up by mouth before and thought I was going to pass out.
I always set our pool up on a tarp and lay a large towel out in the "entrance" for them to wipe their feet on to save from all of the grass that likes to go swimming, too. Toss a couple of bath toys in there, and they are in heaven.
2) The next thing I like to do, and probably my go-to water activity, is the sprinkler. It is very easy to set up, the kids love it, and my grass is getting watered at the same time. I used to buy the kids' sprinklers from the store, but they often break or the kids find ways to avoid the water as a game. When I saw my kids do this, I decided it was my personal challenge to soak them.
What I do is take my yard sprinklers out and connect them into a series of four. I mix up the different types I have and make them shoot the water out randomly. The timing is almost impossible to predict and they shoot 20-25 feet in all directions, so there is not much space to hide either. For even more fun I connect the sprinkler timer I have and set it go off at random times for ten minutes or so. This way the kids can play in the yard, and when it comes on they get super excited.
3) The last thing I like to do is a water gun fight. I do this when I want to join in on the fun, too.
Summer and water go together. Let your preschooler get soaked and create memories in the process.