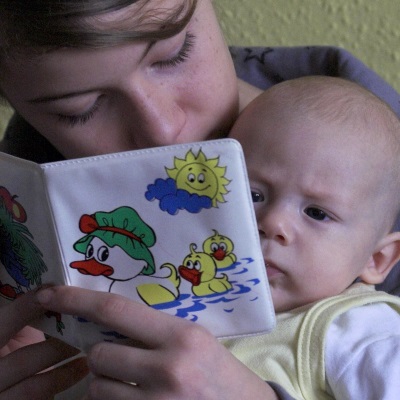 The best books for young children have large, realistic pictures of items the child sees every day. These may help early toddlers who are just beginning to talk to learn new words. And children really enjoy using books made especially for them. They like to help choose the pictures for these easy-to-make books. Here are some ideas to get you started; my children and grandchildren love them!
The simplest books are made from copy paper and have a construction paper cover. They can be stapled together, but be sure to cover the staple completely, covering both sides with duct tape or clear tape. This keeps the staples from falling out and ending up in your child's mouth. It also helps to prevent scratches on a child's delicate skin.
My Favorite Things
It's fun to gather pictures related to one idea. A book called Toy Box will have a picture of one toy on each page. You can cut pictures from catalogs, magazines, advertising circulars, and the newspaper. Label these toys using proper lowercase letter formation, such as doll, ball, tricycle, game, top, or stuffed animal. The title page should be printed, as a standard book title would appear, with only the first letter of each word in capital letters.
Some other suggested titles could include:
Yellow – a collection of yellow things such as flowers, school bus, canary or a yellow toy.
Grocery store – pictures of things you buy at a grocery store.
Things with wheels – pictures of cars, trucks, airplanes, and skates.
Findings at the beach – Seashells, sand, fish and water.
Cut Your Books Into Shapes
What's your child's favorite shape? Experiment with cutting the book cover in a special shape. A truck shape adds interest to a book about trucks or a fish bowl to one about sea life. How about cutting a book to look like a suitcase, especially if it's vacation time? Inside, include pictures of items you find in a suitcase, such as socks, shoes, clothing, toothbrush, and a teddy bear.
Zipper Bag Books Are Great
One of my favorite books to make with toddlers is the zipper bag book. It's great for youngsters who tend to put everything in their mouths and the plastic is easy to clean. Begin by cutting construction paper slightly smaller than the pouch size of the bag. Glue a picture to each side of the paper. When the glue is dry, hold the flap of the plastic bag in one hand and slip the paper into the bag. Be sure the pictures face the right direction, and then zip the bag shut. Stack several of these stuffed bags one on top of the other. Use a sewing machine or needle and thread to sew through the layers of plastic, thus creating the bookbinding.
These bag books are versatile. The pictures can be changed as often as you like. Real items can be placed inside the bags, such as photos of your child, members of the family, and your child's friends. Don't forget the family pets too. Your youngster will love these easy-to-make personalized books and they are great for the budget.