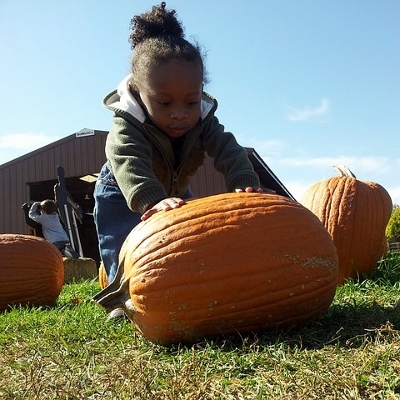 Halloween can be an overwhelming holiday for the littlest kids in the group. The dark atmosphere, scary costumes and long walks all tend to keep toddlers from truly enjoying this awesome holiday. You can reinvent the holiday by embracing a month of fun activities that are geared toward the younger set. Here are some fun toddler friendly Halloween activities to enjoy.
Hayride
Before you head down to the pumpkin patch to pick your future jack o' lanterns, try to find a location that provides hayrides. Little kids love sitting atop bales of hay while riding through the vivid orange and green pumpkin patches. Make sure to sit nearby to remind your toddlers to stay seated during the ride. For particularly wiggly kids, you can even have them sit on your lap to obtain a better view and stay safe during the hayride. The hayride operators only drive a few miles an hour through the fields to give everyone a chance to take in the view and enjoy the ride together.
Corn Maze
Many pumpkin patches also have a corn maze set up near the pumpkin fields. Read through the corn maze description to verify it does not have any jump scares or other frightening elements. At the corn maze, allow your toddler to lead the way as you move through the twists and turns to find the exit. At the end of the maze, you will usually receive a small prize and be able to go pick out corn themed treats from the nearby stand. At the concession stand, you may find roasted ears of corn with plenty of salt and butter or popcorn in cheese, butter and caramel flavors.
Dash Run
Halloween themed runs are a lot of fun for kids and adults of all ages. Toddlers especially love these events because they can run around in their costume a bit early. You can bring a stroller to give your toddler a rest break in between quick jaunts down the trail. There may be scary costumes all around, but the daylight tends to temper the fright factor of those getups. At the end of the marked track, your kids may receive a t-shirt or sticker to commemorate their participation.
Trunk or Treat
Skip the long nighttime walks in favor of a quick jaunt through the parking lot by attending a trunk or treat event. These daytime events keep kids safe while still allowing them to show off their costumes and collect candy for their efforts. The events are often held at churches and shopping malls around the region. You can even hit up several events if your kids are not tired out after the first one. If you do not have any trunk or treat events in your neighborhood, visit local shopping centers or malls for a similar experience.
Integrate the above activities into your weekends throughout October to give your toddler pleasant memories of the fun Halloween season.